a brief history of leonia
The earliest settlement in Leonia dates to 1668 when Samuel Edsall bought 1,872 acres of land from Chief Oratam of the Hackensack Indians. The land extended from the Hudson River to Overpeck Creek. Other Englishmen purchasing large tracts of land around the same time were Nicholas Verlett and John Berry. These three English-owned tracts stood out in an area where the spoken language was Dutch, nevertheless it came to be known as the English Neighborhood stretching from Ridgefield to Tenafly and the whole of Leonia.
Earliest recording of land deed, February 20, 1668. (State Archives, Trenton)
By the time of the Revolution Leonia, or rather, the English Neighborhood, was made up of Dutch and English settlers. A document, written and signed by William Paterson a few months before the Revolution, deals with a protest by a British regiment commander whose arms were seized by a detachment of Continental troops. Paterson was then secretary of the Provincial Congress, after the war he helped to write the Constitution. He eventually became New Jersey's second governor and towards the later part of his life President Washington appointed him to the first Supreme Court.
William Paterson, painted by James Sharples 1794 (National Portrait Gallery, Washington, D.C.)
Document written and signed by William Paterson 1776, Secretary of the Provincial Congress
Leonia and the American Revolution
Leonia is rich with the struggle for independence. An encampment of French soldiers was located near Oak Tree Place, and artifacts have been found indicating that British soldiers were camped where the Methodist Church now stands. On the morning of November 20, 1776, some 3,000 men marched down what is now Fort Lee Road behind their commanding General George Washington following the Battle at White Planes. In 1916 to commemorate the troops that passed through Leonia that day, the Men's Neighborhood Club commissioned Leonia sculptor Mahonri Young to design a bronze plaque depicting Washington with his troops.
George Washington in military uniform painted circa 1850 by Rembrandt Peale (original in the Oval Office, White House, Washington D.C.)
George Washington with his troops
The bronze plaque of George Washington with his troops by Mahonri Young 1916 can be found on Fort Lee Road in front of the Presbyterian Church
George Washington with his troops (Mural)
A second work marking that same day is a mural by artist Howard McCormick in the auditorium at the Anna C. Scott Elementary School. McCormick painted it as part of a WPA project in 1936.
George Washington with his troops, mural painted by Howard McCormick 1936 (Anna C. Scott Elementary School)
Leonia's early prominent landowners
One of Leonia's early prominent landowners was Thomas Moore. The Moore family's second home, built in 1815, is adjacent to the library.
Second Moore Home built in 1815 on Fort Lee Road (photo taken in 1912 for the magazine American Homes & Garden)
King George Appoints Moore
Moore had been appointed a justice by King George prior to the Revolution, because of his loyalty to the American cause, the British arrested and imprisoned him in the Old Sugar House Prison in New York where he died along with Continental soldiers.
Old Sugar House Prison on Duane Street in Lower Manhattan where Thomas Moore was imprisoned along with Continental soldiers.
Samuel Cole built Leonia's oldest house
Some ten years prior to the Revolution Samuel Cole built what is Leonia's oldest house in 1765 located on the corner of Prospect Street and Grand Avenue. Cole became infamous for cavorting with the British, and when things became too hot, he went to Nova Scotia. After the war he returned to Leonia, but was greeted with rotten eggs and lashings by his neighbors and was not permitted to vote. Leonia was a source of food and firewood for troops of both sides and was repeatedly raided for hostages or prisoner exchange. Some hostages died on British prison ships in New York Harbor.
Samuel Cole House 1765 corner of Grand Avenue & Prospect Street (Donated by Harriet Boyd)
After the Revolution Derick Vreeland purchased a tract of land extending from the Hudson River to Overpeck Creek and south to Christie Heights Street. In 1786 Vreeland built a one room sandstone cottage, and in 1818 a Dutch Colonial house was added. Descendants of the Vreelands occupied the house until 2000. It was designated a national historic landmark in 1978 and is located on Lakeview Avenue.
Vreeland House built in 1786, addition added in 1818, Lakeview Avenue
No description of Leonia can be complete without a mention of slavery. In 1784 slaves comprised almost one-fourth of the borough's population. There are eight bills of sale for slaves in the archives. The latest dated document is May 20th, 1809. Richard Vreeland purchased a "negro named Isabel with three children" whom he gave to his daughter Elizabeth. Slavery was abolished in New Jersey by decree in 1846.
(Vreeland Papers)
Northern Railroad station in Leonia 1880
(Althea Eames Oliver Postcard Collection)
Incorporation of Leonia in 1894.
An armory, built on Grand Avenue in 1859 as a place for storing munitions and mustering the local militia, came to be called the Civil War Drill Hall. It is Leonia's oldest public building.
Civil War Drill Hall Grand Avenue 1859 (photo taken sometime prior to the paving of Grand Avenue in 1920)
Officers & men of Company E 1898
During the Civil War it headquartered Company E which saw action at Chancellorsville in 1863. During the Spanish-American War Leonians from Company E assembled at the drill hall, but they did not participate in active service overseas.
John McCloy, a Leonia resident
John McCloy, a Leonia resident who served in the Navy, was awarded two Congressional Medals of Honor, one during the Boxer Rebellion in China in 1900 and the second for heroism during the occupation of Veracruz, Mexico, in 1915.
John McCloy circa 1900 (original photo held by Thomas Goff)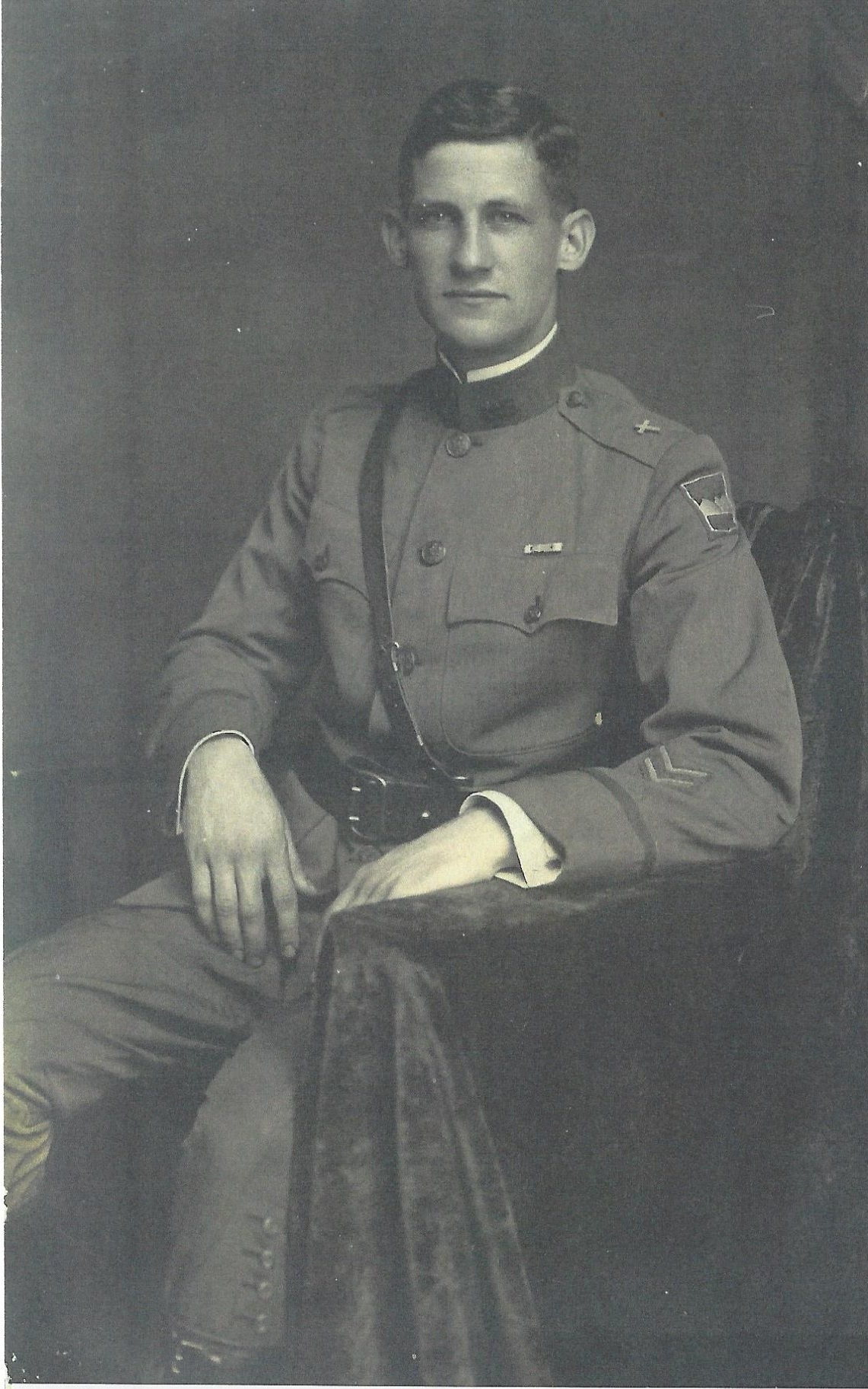 Leonia during World War I
When the United States entered World War I some 160 men served in France including the Reverend Arthur Brown from the Methodist Church as a chaplain and four doctors among them Dr. James Wyckoff.
Lieutenant Arthur Brown, Chaplain circa 1918
Major James Wyckoff, M.D. circa 1918
Major Wyckoff took a group of Leonian boys to France as a hospital unit. Pictured here are some of Dr. Wyckoff's medical unit, the 114th Field Hospital.
(France 1918)
Victor Albrecht circa 1942
The Second World War saw close to 800 Leonia men serving in the armed forces, among them Victor Albrecht who received a Bronze Star for action in Germany.
Photograph donated by Leonia American Legion.
Documents in the archive reveal that Mrs. Vreeland operated a boarding school on the family property. One of the documents is for tuition and board for students attending the Upper School of the English Neighborhood in 1832.
Ledger entry for tuition and board due for students attending the Upper School of the English Neighborhood 1832 (Vreeland Papers)
First Public School in Leonia
The first public school opened in 1856 with one room, one teacher, and 66 pupils. It was located on Grand Avenue, and the earliest photograph of the school is from 1880.
Children pose in front of the Grand Avenue School circa 1893
Public Schools at the Turn of the Century
By the turn of the century the school was in poor physical condition and enrollment had reached 107 students. A new brick elementary school was built away from the noise and the marshland of Grand Avenue opened in 1905 on the corner of Broad and Crescent Avenues.
Early photograph of the schoolhouse located on Grand Avenue near Christie Heights Street 1880
Broad Avenue Elementary School circa 1906
However, there were not enough students in Leonia to economically operate a high school. By inviting pupils from the surrounding communities on a tuition basis, the Borough raised sufficient funds to purchase land and construct a building on Christie Heights Street. Leonia High School was completed in April of 1913.
Broad Avenue elementary school 1906 (postcard collection)
Christie Heights Street 1913
The original town was centered along Grand Avenue, known as the King's Highway prior to the Revolution. The coming of the Northern Valley Railroad in 1859 brought mail, goods, skilled laborers, and wealthy businessmen who built large homes. A cluster of small businesses developed around the railroad, and the town center came to be known as Leonia Village.
The village of Leonia from Grand Avenue 1895 (Althea Eames Oliver Postcard Collection)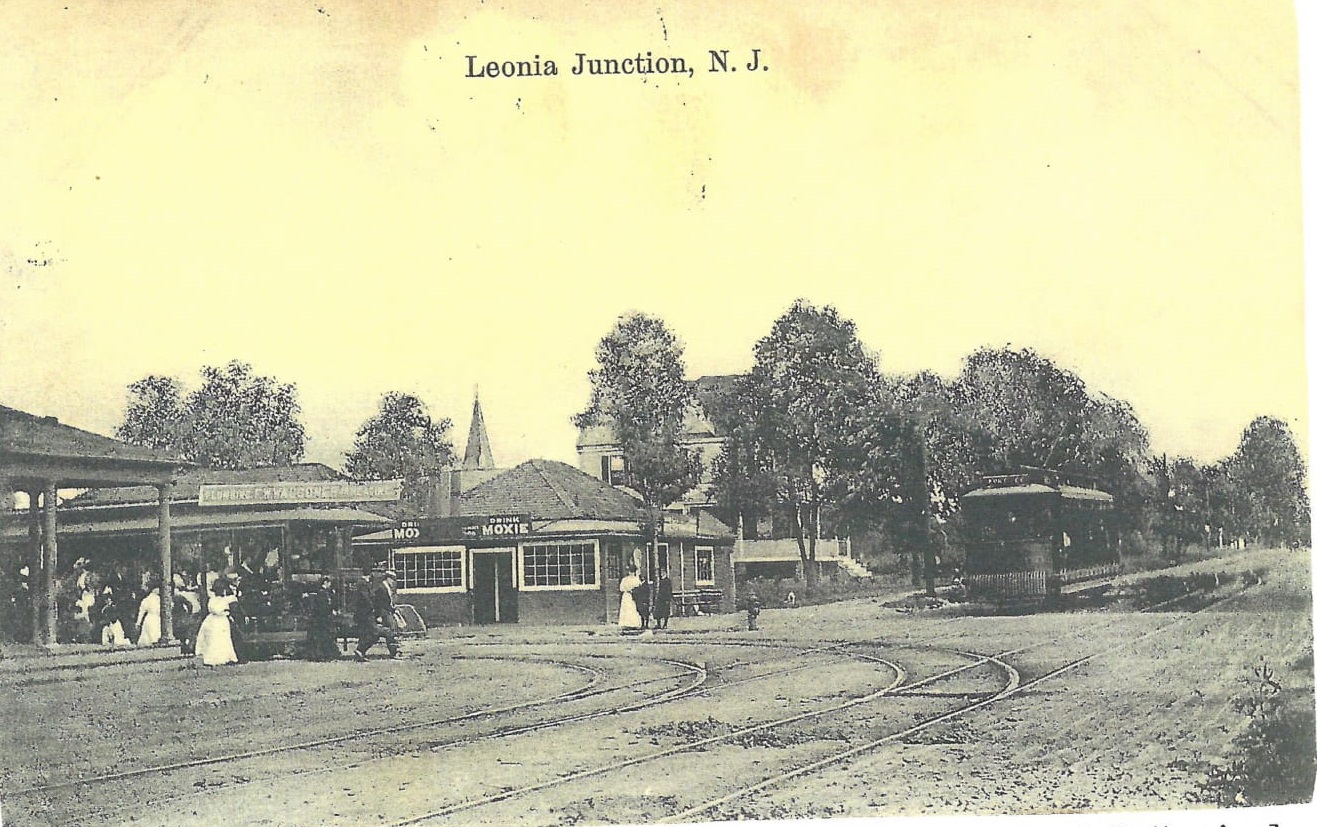 Trolleys at Junction circa 1914
With the arrival of the trolley in 1896 the town center moved up to Broad and Hillside Avenues and came to be called the Junction. Leonia was no longer a rural agricultural town. The trolley line to the 125th Street Ferry was extended in 1900 down Broad Avenue. The West Side Subway completed the links, making New York City accessible. A developer named Artemus Ward created the Leonia Heights Land Company in1899. He advertised his cultural mecca on New York subways as the Athens of New Jersey. Ward's efforts brought large numbers of people to Leonia.
(Althea Eames Oliver Postcard Collection)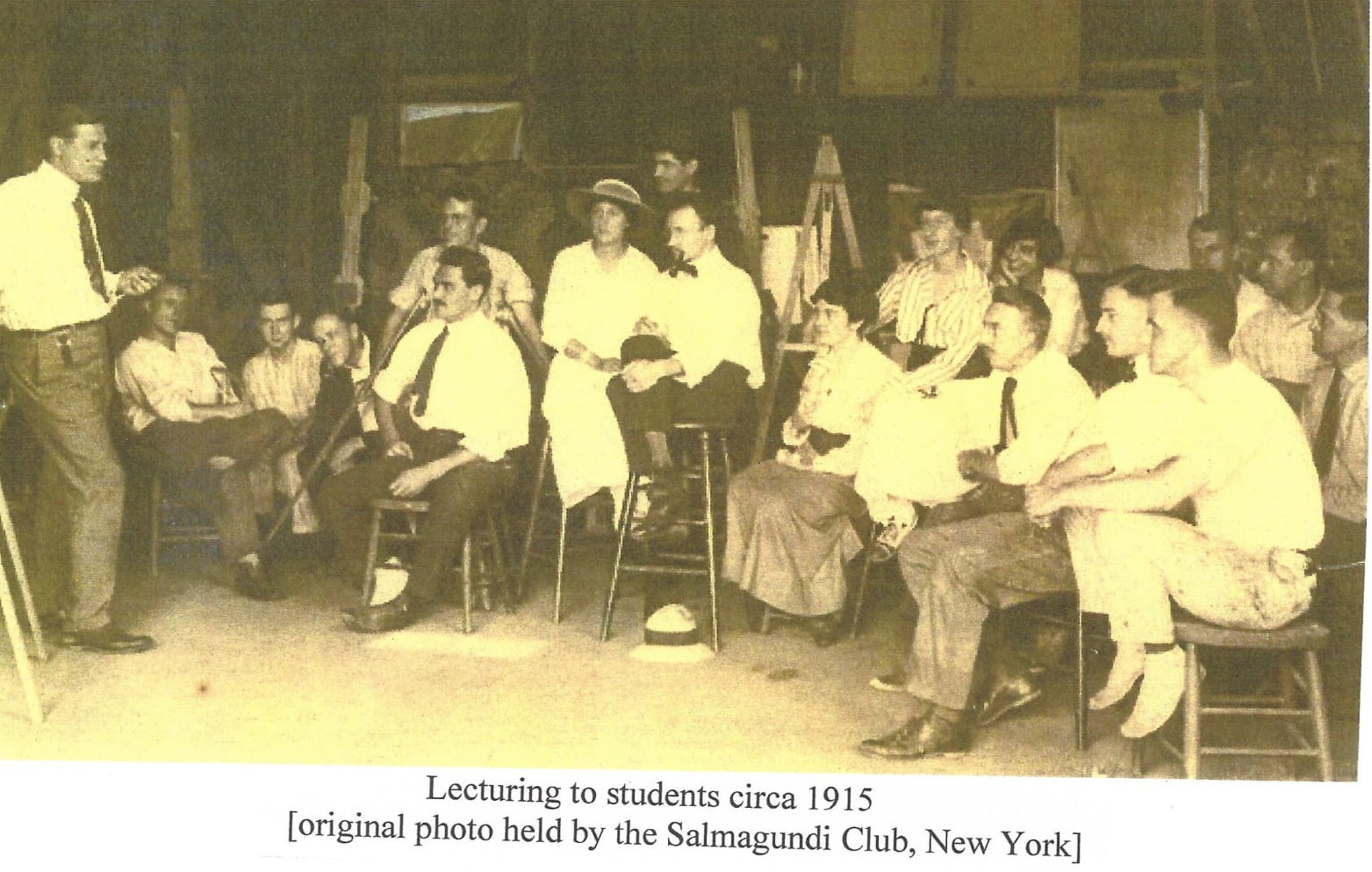 Lecturing to students circa 1915
In the 1890s artists began settling in Leonia. The varieties in the landscape (hills, orchards, meadows, streams, farms) provided countless subject matter, and its proximity to New York's major art galleries added to its appeal. Many of these artists made their living as magazine illustrators in New York. Leonia grew into a colony of artists further stimulated by the opening of a summer school of illustration in 1915.
(original photo held by the Salmagundi Club, New York)
Artists at their easels circa 1915
The first artist to arrive was Peter Newell in 1893 who was the original illustrator of the American edition of Alice in Wonderland, his daughter Jo having been the model for Alice.
"Through the Looking Glass" from Alice in Wonderland
1902, Watercolor (Leonia Public Library Art Collection)
Over eighty prominent artists settled in Leonia.
George Washington Bridge March 1931
By 1931, with the opening of the George Washington Bridge, Leonia underwent another period of population growth.
(Harry E. Moore Collection)
Notable Leonians
The archives contain biographies and photographs about scores of outstanding Leonians, representing people from entertainment, the sciences (including five Nobel Laureates), the arts, sports ( first baseman for the New York Yankees), authors, a suffragette, and the president of a small European country who graduated from Leonia High School.
Explore the Digital Archive HERE